Land Conservation
Argentina – Patagonia Park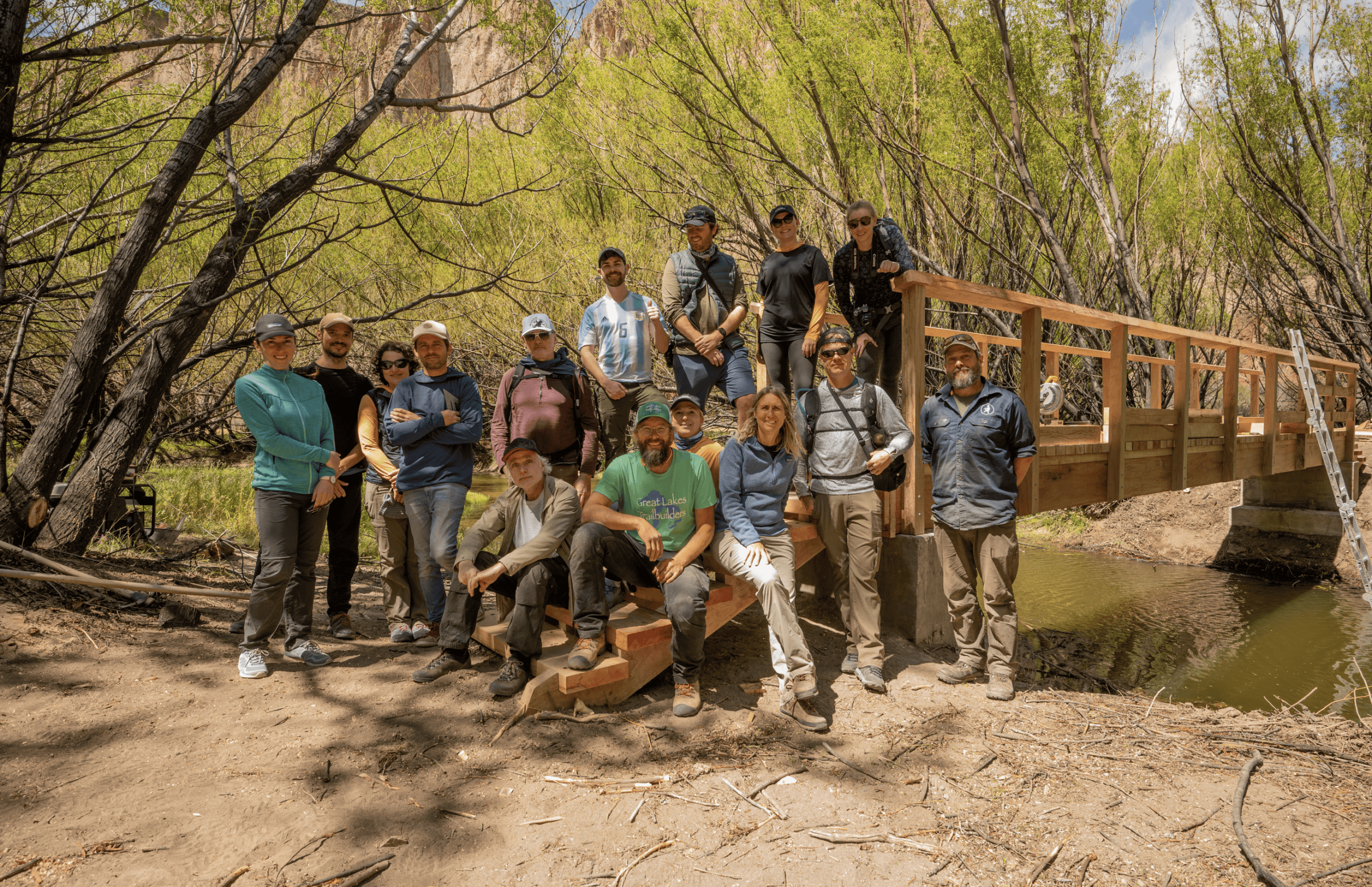 Why is it important to protect the land by preserving large areas?
More land conservation. Less GHG emissions.
Thriving plant, ocean and soil systems make up our planet's main carbon sinks and by their nature, absorb and store more carbon from the atmosphere than they release. When our land and bodies of water get overworked, overdeveloped and overrun their natural power to sequester carbon diminishes and previous carbon stored may likely be released into the atmosphere.
Restoring and permanently protecting degraded land into a thriving, wild and complete ecosystem is an example of a natural capital based solution Freyja employs to re-establish continued carbon sinks.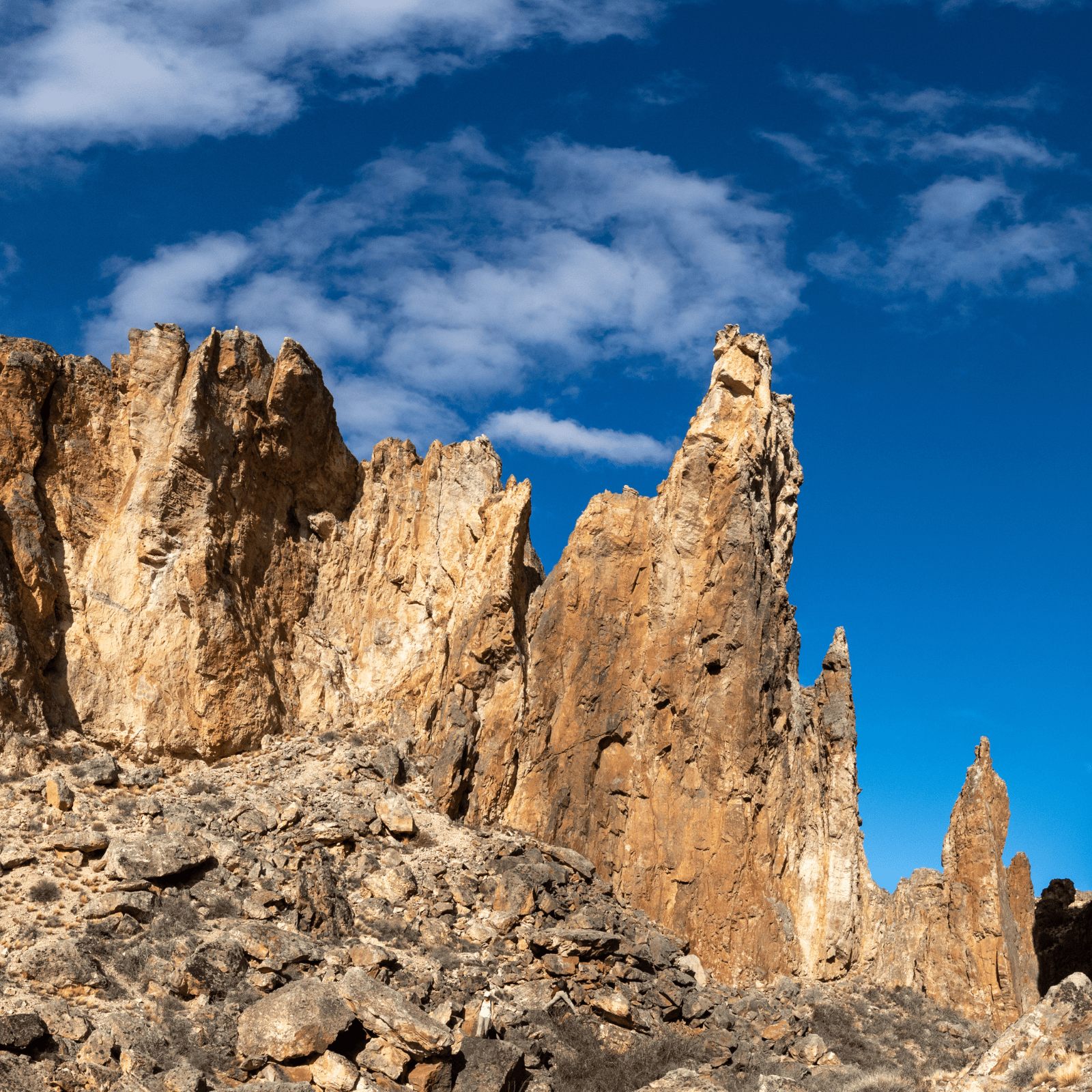 PATAGONIA PARK ARGENTINA
Patagonia Park Argentina: Permanently protecting & Rewilding 180,000 hectares of formerly degraded farmland into a rich biodiverse wildlife corridor and ecosystem.

Together we can do more. The Patagonia Park Argentina (PPA) project is the result of a collective dream of local communities, government institutions, and environmental organizations to develop a conservation model in which wildlife and people thrive by protecting, restoring, and experiencing the natural ecosystems that sustain them.
In 2018, Freyja Foundation teamed up with the Wyss Foundation and joined them in their commitment towards supporting the creation of a vastly expanded Patagonia Park.
Our in-country partner, Rewilding Argentina, is the project implementor and receives annual grant funding from Freyja to run the park's rewilding, local engagement, communications, and park management. Read below to learn more about the success of the rewilding work to date.
Uniquely, for this project, Freyja acts not just as a grantor to Rewilding Argentina but also as partner, where we are directly designing and managing all public use infrastructure in the park as well as a pro-bona outdoor program for youth from the local communities surrounding the park.    
Land conservation can deliver 37% of the carbon mitigation needed by 2030. Patagonia park has sequestered 1.3 million metric tons.
We are building a park for all people to enjoy, indefinitely.
Our public use infrastructure work adheres to the highest international standards of build and design. It includes trails, campgrounds, latrines, day picnic areas, bridges, a local concession, and signage. We work alongside Rewilding Argentina in developing the master plan and the visitor experience.
WE'RE ENGAGING VOLUNTEERS AROUND THE GLOBE TO HELP BUILD A SUSTAINABLE PARK.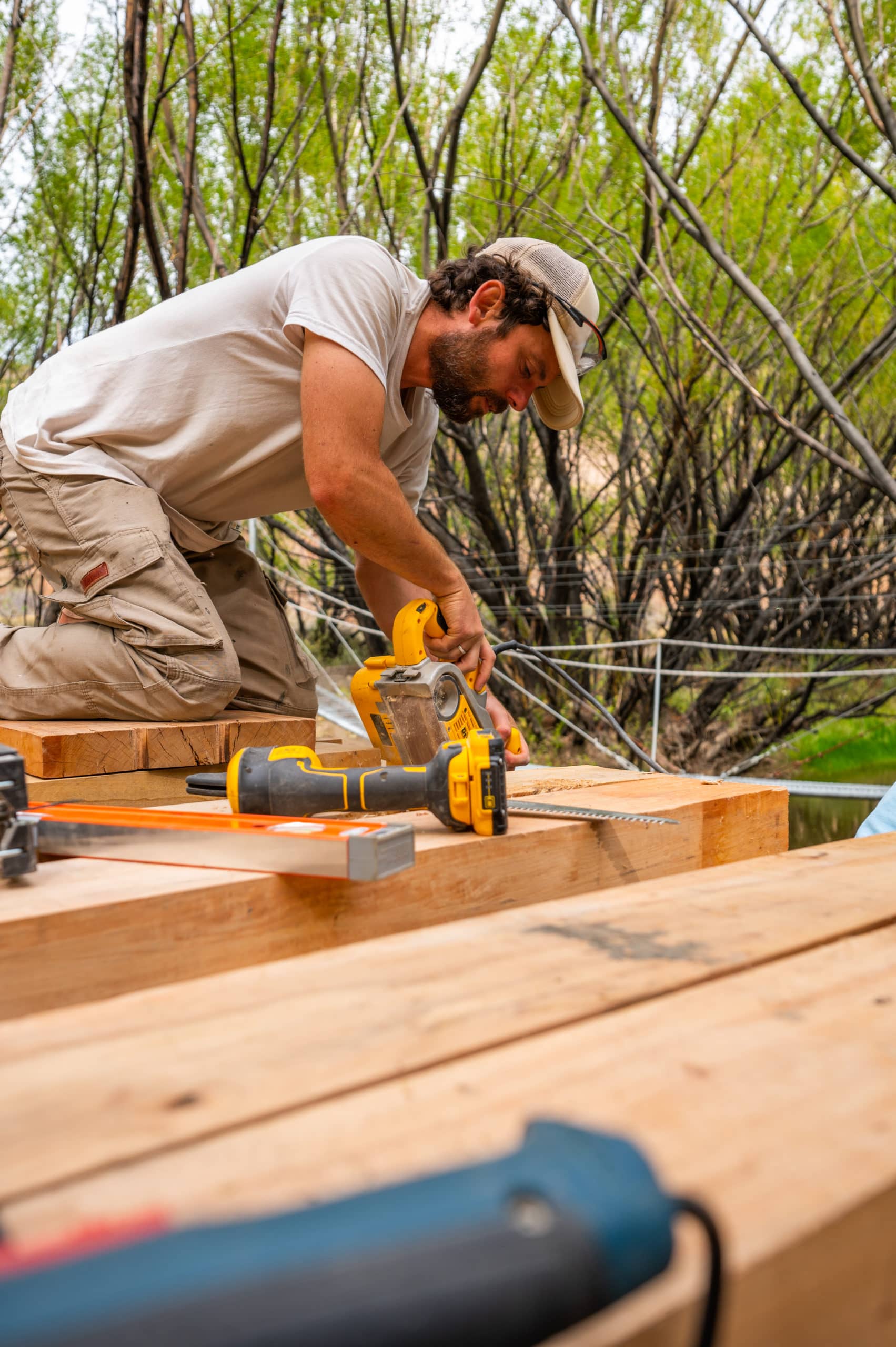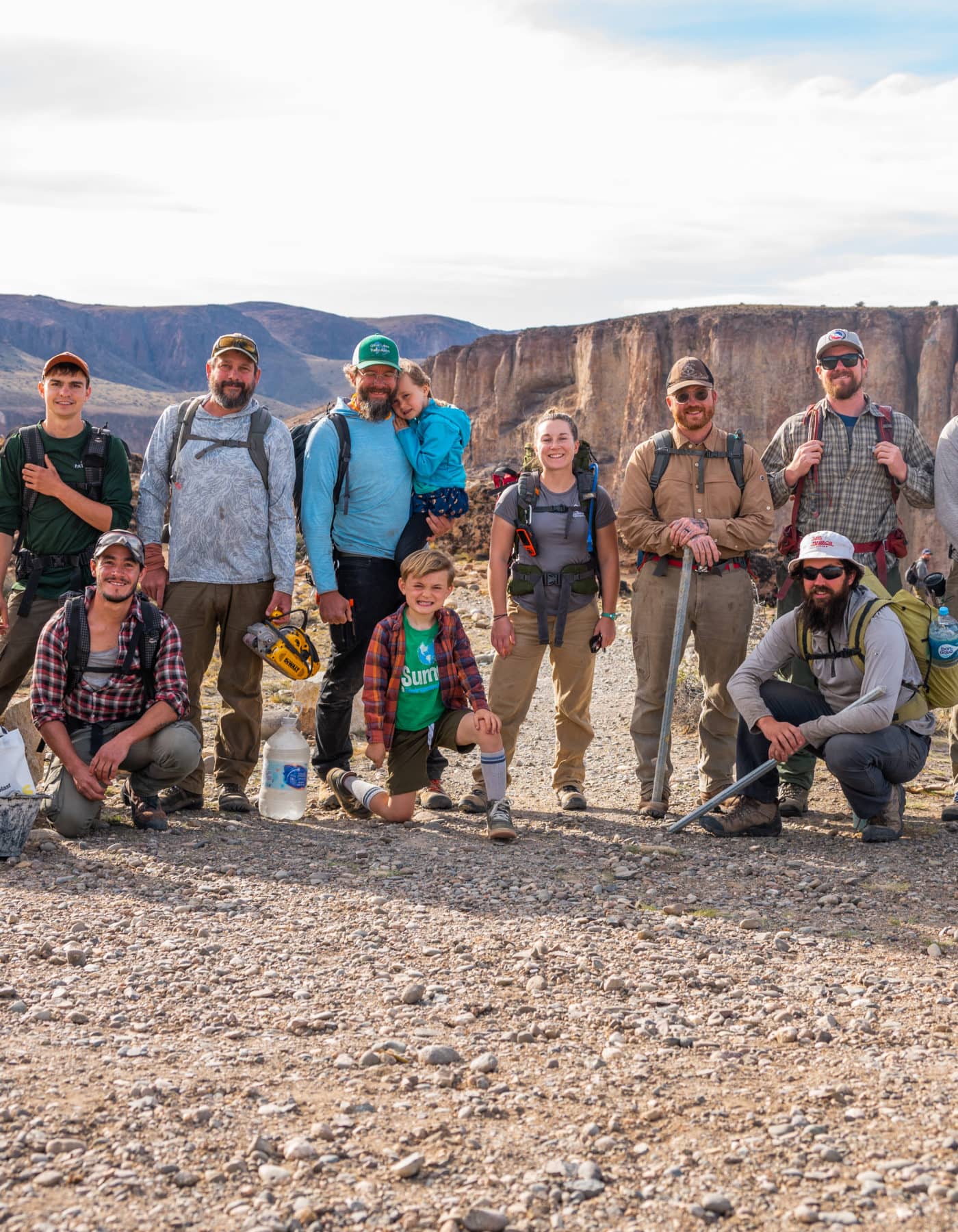 Our public use infrastructure work in Patagonia Park Argentina adheres to the highest international build and design standards. It includes trails, campgrounds, latrines, day picnic areas, bridges, a local concession, and signage.
Willie Bittner from Great Lakes Trailbuilding  & Jed Tabot from OBP Trailworks head up the trail design team and together train and work with our local and volunteer trail crew in the park.
We launched our volunteer trails program to support the work being done in the park.
Find out more here:
We're bringing the animals back.
This project focuses on the main keystone species, and high/at-risk or extinct animal species in the region: Pumas, the Huemel Deer, Guanacos, the Lesser Rhea, Wolffsohn's Viscacha, Austral Rails, the Andean Condor, Pampas Cat and the Coypu. Since the beginning, Rewilding Argentina has applied a scientific approach to rebolstering diminished species populations as well as supporting species reintroduction.
Through active management, which includes collaring, satellite tracking, threat removals, plant ecosystem restoration and data analytics, the team has surpassed expectations in keystone species population growth numbers. Today Patagonia Park Argentina is one of the only places where you can see wild herds of guanacos, robust bird populations, and spot pumas.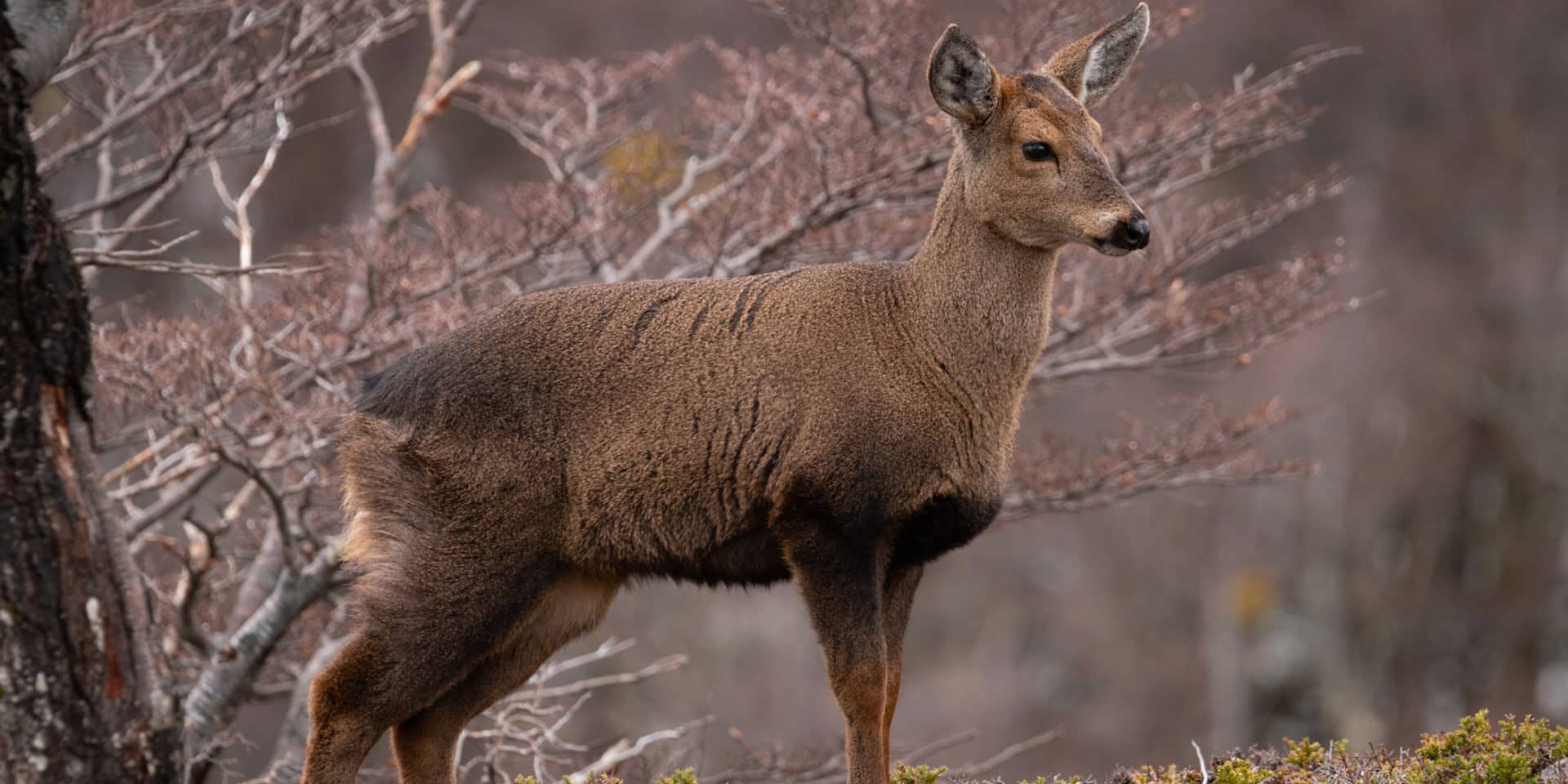 Huemul Deer
Everyone should have the opportunity to explore the wild.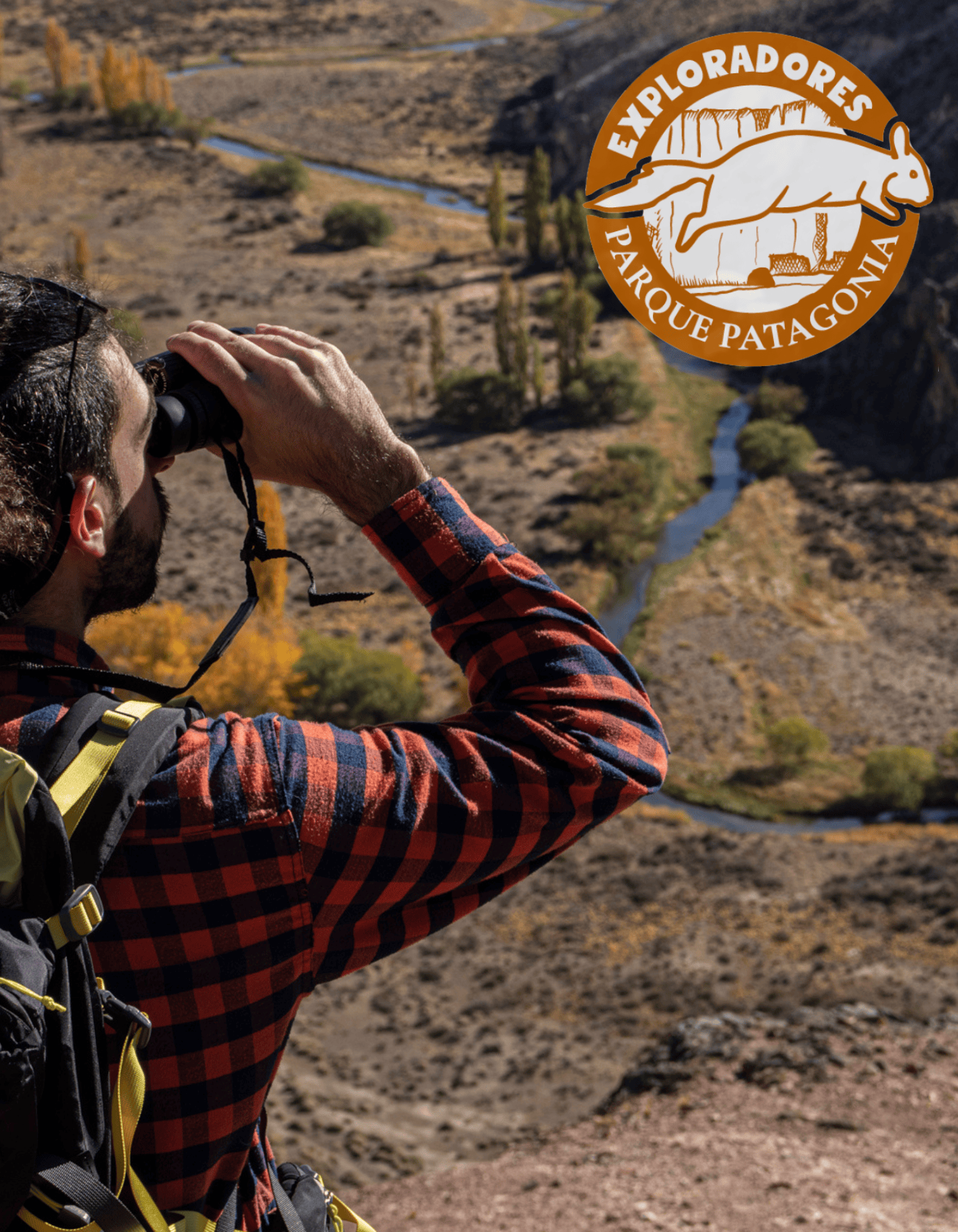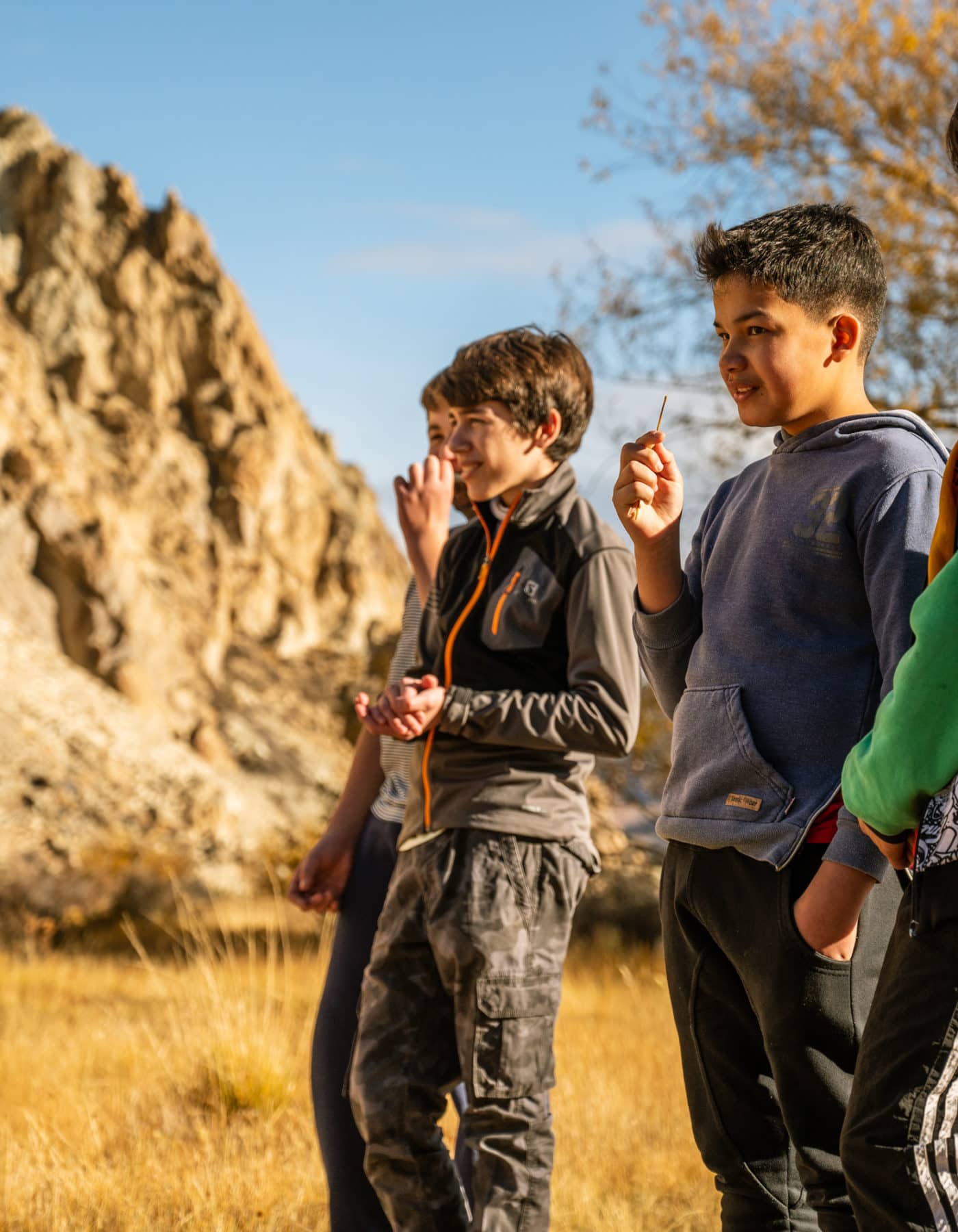 Patagonia Park's Youth Outdoor Program, Los Exploradores, supports educating local youth about their wild places and fostering a deeper connection to nature. The program's goal is to empower the next generation of local stewards of the park. We developed and fund the pro-bona Los Exploradores program. It is run by Rewilding Argentina and overseen by Freyja Foundation. The goal for 2023 is to recruit 250+ local children within the 10-14yr old age bracket.
WITNESS THE WILD in patagonia park, argentina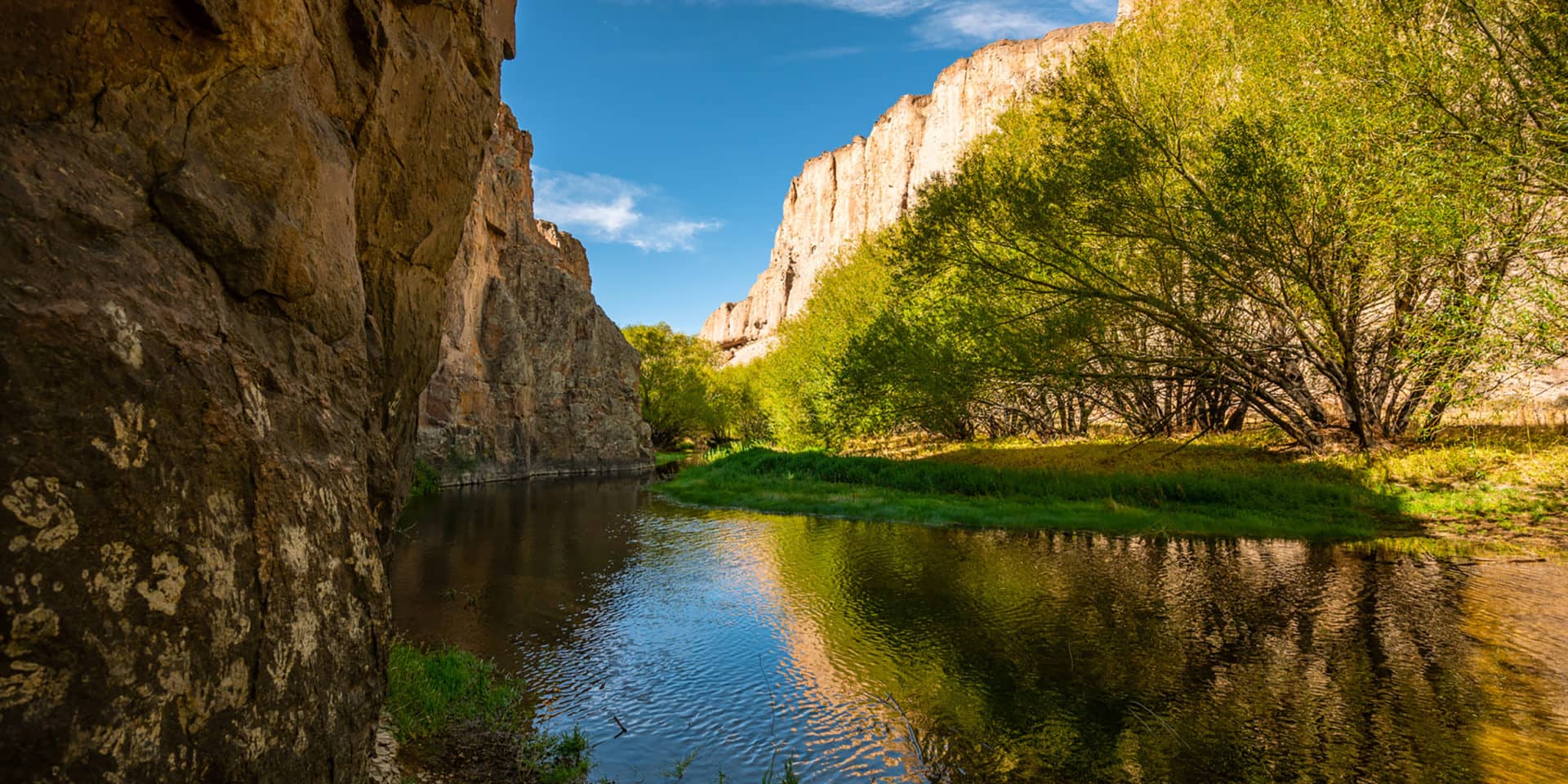 Love to Hike and Camp?
Visit Patagonia Park Argentina, and witness the wild as you explore all the park and its wildlife have to offer.
VISIT NOW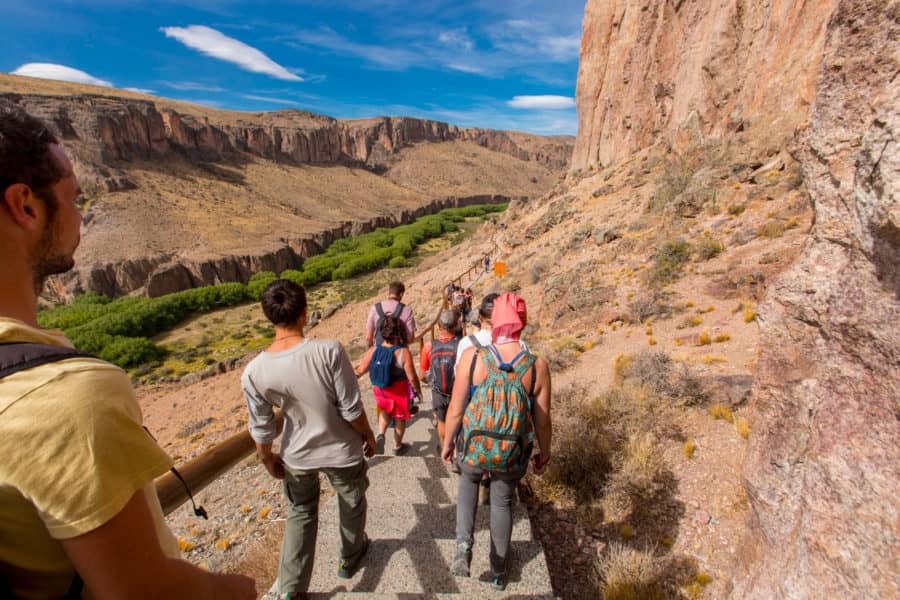 FAQs
The region of Patagonia is located in the south of Chile and Argentina, on the very tip of South America. A common misconception is that Patagonia is a country. It isn't.
The Andes mountains (not the Patagonian mountains!) act as a natural border between the two countries.
It's because of the fact that Patagonia is located within two different countries that getting to Patagonia can feel quite so complicated.
Patagonia Park Argentina is the result of a collective dream to develop an economic model where both wildlife and people can thrive by recovering their natural ecosystems.
WITNESS THE WILD – Discover the Portal Cañadón Pinturas
World-class Hiking Trails within the Cañadón Pinturas – Patagonia Park Argentina
With 40 km of marked trails, this is the ideal destination for wildlife watching and is one of the access points to the Cueva de las Manos site. There is a lodge, campsites with a grocery store, and one campsite with services and parking spaces.
Camping in the Cañadón Pinturas – Patagonia Park Argentina
Patagonia Park offers 2 campsites inside the park:
La Señalada:
It has a hearth built in stone, an outdoor space with tables and places to sit, latrines and six individual platforms for the setting of tents (which are protected from the wind). There is a grocery store that offers homemade baked goods, water, fresh drinks, and basic local products. The campsite is available for use for a fee.
La Confluencia:
It is immersed in the valley of the Pinturas River, at the intersection of that canyon with the Caracoles canyon. It has latrines and six individual platforms for the setting up of tents. This campsite is available free for use.
For reservations at the campsites: parquepatagonia.arg@gmail.com.
Reservations need to be made 15 days in advance of the requested date or on a first-come-first-serve basis.
Cueva de las Manos (Cave of the Hands)
This protected area is home to the Cueva de las Manos archaeological site, one of the oldest expressions of cave art in South America —with paintings over 9,500 years old— and which is a UNESCO World Heritage Site.
The paintings allow us to peek into the life of those human groups of the past: hunting scenes and silhouettes of animals such as guanacos, rheas and armadillos stand out among the figures, possibly the main components of their diet.
These can be accessed on foot from the Portal Cañadón Pinturas through the Bajada de los Toldos trail, or via Route 40 through two vehicle entrances. Visits to the archaeological site are guided and admission is paid.
Alero Charcamata
The Alero Charcamata Provincial Reserve is located in a canyon and can only be reached by foot. It is home to cave paintings that are more than 7,000 years old. These paintings highlight the Guanaco as the main source of sustenance for the nomadic people of the region.
This archaeological site is located on private property and can only be accessed by hiring a local tour guide.
Check schedules at La Posta de Los Toldos, Cueva de las Manos or at the Perito Moreno Tourist Office.
Find out more here
Where to stay in Patagonia Park Argentina
Eco-lodge La Posta de los Toldos
It offers everything you need to rest between portal adventures: common areas, hot meals, nine rooms with private bathrooms, a wood-burning oven and cooking area.
The eco-lodge also manages the El Mollar campsite, a fee-paying space with six private wind shelters —where it is possible to park cars and campers. There is a fire pit and space for two tents in each shelter, and then a common area with a living room and wooden stove, dish washing facilities as well as bathrooms with showers.
Accommodation, guided wildlife viewing, geology and tours of the Parque Patagonia region can be booked by writing to reservas@lapostadelostoldos.com
For more information:  www.lapostadelostoldos.com
What's the weather like in Patagonia Park Argentina?
In general, the Patagonian summer offers long, mild days and cool nights. Temperatures range between 10 and 24 degrees (celsius) during the day, dropping to 4 at night. The presence of strong winds and occasional rain can make temperatures appear cooler.
It is recommended to dress in layers to be prepared for all types of weather, including a warm jacket, a windbreaker, and appropriate footwear for walking on rocky and dry terrain.
SEASONS
SUMMER: November – March
WINTER: May – September
The best time to visit Parque Patagonia Argentina is during the summer months of the southern hemisphere (November to March). The weather is warmer, the days are longer, the skies are clear, and it's the height of the growing season, so the vegetation is green and vibrant. However, spring also has its charms by filling the landscapes with tiny flowers and intense aromas. Winter offers totally different postcard views and the possibility of spotting wildlife by following the tracks in the snow.
How to get to Patagonia Park Argentina
The Patagonia Park Binational Circuit covers approximately 600 km of paved and gravel roads, and connects communities and access portals to the Park in Argentina and Chile.
Distance from:
Comodoro Rivadavia:
through Chubut, Provincial Route RP 26: 456 km (283 miles)
through Santa Cruz, route RP 43: 437 km (271 miles)
Bariloche, National Route RN 40: 856 km (532 miles)
Esquel, National Route RN 40: 591 km (367 miles)
El Chaltén, National Route RN 40: 532 km (330 miles)
Calafate, National Route RN 40: 571 km (355 miles)
Nearby Airports
Comodoro Rivadavia, El Calafate, Esquel, Bariloche
Distances in Patagonia are long and isolated. It is therefore recommended:
-To always leave with a full tank of fuel, to refuel when possible, and in some cases it is advisable to carry an extra tank of fuel.
-Make sure you have plenty of food and water reserves.
-Keep in mind that there is little connectivity in the region and in many places you will only have access by Wi-Fi. On the routes there is no telephone signal or data at all.
-Maintain speeds that do not exceed 60 km/h. Except for RP 43 and RN 40, the rest of the routes are gravel roads.
-Always carry a spare wheel.
-The sun and the wind during the day can be intense. It is advisable to wear a hat, sunscreen and sunglasses.
-Wear a coat and layers since the region has a wide temperature range.
-Bring cash and Argentine pesos. In many places there is no "posnet" and they do not exchange foreign currency.
Where to fly into in Patagonia, Argentina
To get to Patagonia in Argentina, you will generally need to fly from the domestic airport, Aeroparque Jorge Newbury, in Buenos Aires.
From here, it's possible to fly into the Patagonia airports of Bariloche (northern Argentine Patagonia), El Calafate (southern Argentine Patagonia) and Ushuaia (the very tip of Argentine Patagonia).